Secure Digital eXtreme Capacity (SDXC) memory cards takes everything you love about portable digital storage and cranks the knob up to eleven. Our Class 10 UHS-1 SDXC line zooms past the competition with top-of-the-line read/write speeds and storage capacities. MyDigitalSSD SDXC Cards are the ultimate memory card solution for any camera-wielding professional using an SDXC compatible device, period.
---
MyDigitalSSD Class 10 UHS-1 Secure Digital eXtreme Capacity (SDXC) Card with HD Video Recording

Details

MyDigitalSSD Class 10 UHS-1 SDXC (Secure Digital eXtreme Capacity) cards offer large storage capacities and lightning fast read/write speeds (up to 45MB/s) for virtually any on-the-go need. Built with professional needs in mind, MyDigitalSSD cards are designed to stand up to the harshest conditions while providing reliable performance during continuous burst mode shooting or capturing fast-action full HD video with a DSLR camera or HD camcorder.

Have confidence that MyDigitalSSD Ultra High Speed SDXC memory cards are Class 10 and UHS-1 Certified for HD video recording. When you see our cards stamped with the Class 10 and UHS-1 logo, it means they are performance-equivalent to big name brands such as the SanDisk and Transcend. Why would you settle for a lesser generic version when our memory cards boast the same reliable performance of the big name brands without the big name prices? Try these cards out and experience the high level of quality that MyDigitalSSD always delivers.

Carry more photos, more music, more videos, more of everything you need in today's digital world with MyDigitalSSD SDXC cards.

Key Features

Lightning fast read/write speeds up to 45MB/s for worry-free continuous burst mode shooting and rapid transfers to your computer.
Full HD video recording enabled by UHS Speed Class 1** allows users to capture fast-action sequences in high definition.
Built for and tested in the harshest conditions-these cards are temperature proof, water proof, and shock proof for maximum durability.
Supports Lock/Unlock, Write Protect and Erase commands.
Low power consumption in portable devices.

**UHS Speed Class 1 designates performance option designed to support real-time HD video recording.

About SDXC

SDXC Capabilities: See what SDXC will let you do! (opens in new window)
Using SDXC: Find out if your device is SDXC compatible (opens in new window)
Performance Testing
Environment: USB 3.0 All-in-1 card reader on a Dell Desktop PC using a USB 3.0 expansion card.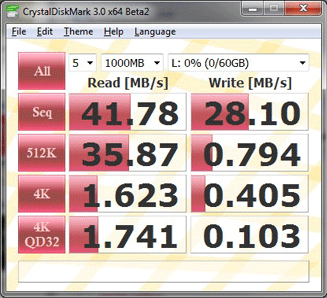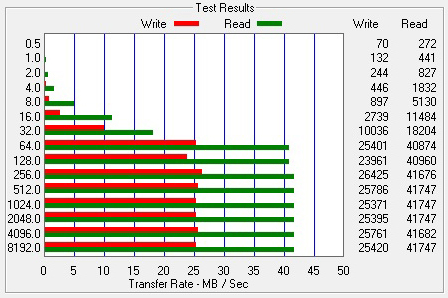 Reviews
"I never lost a single frame of footage from using either of the two cards, and it even surpassed my testing goals and simply became my first go-to cards whenever I was shooting with a camera that took SD media."
http://www.rustyauto.blogspot.com/2011/10/professional-recording-media-such-as.html
Specifications
| | |
| --- | --- |
| Capacity : SKU | 64GB : MDSDXC-64-CL10 |
| Form Factor: | Secure Digital - SDXC |
| Speed Rating: | Class 10 |
| Performance: | Up to 45MB/sec write/read speed (300X)* |
| Operating Temperature: | 0 to 70°C |
| Storage Temperature: | -25 to 85°C |

| | |
| --- | --- |
| Dimensions: | 0.94" x 1.25" x 0.08" (24mm x 32mm x 2.1mm) |
| Compatibility: | Compatible with all SDXC supporting host devices |
| Security: | Built-in write-protect switch prevents accidental data loss |
| Warranty: | 1 Year |